Why traditional VoC metrics don't deliver the insight you need to succeed
Published on:
July 24, 2018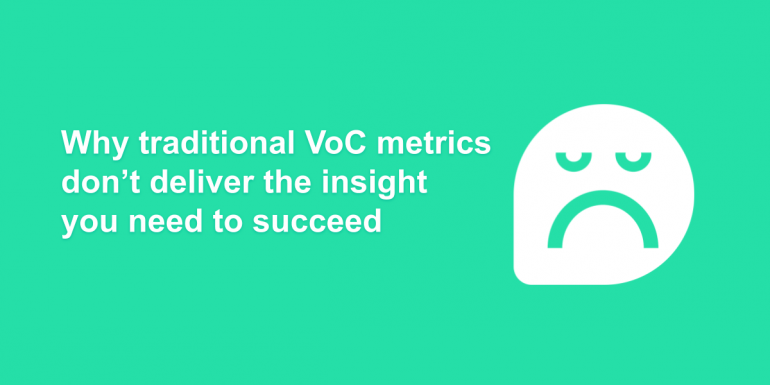 Given its importance, most organizations measure customer satisfaction, normally through Voice of the Customer (VoC) surveys. However, often these only provide topline data, such as Net Promoter Score or CSAT metrics. These give an incomplete picture - while you can track whether these scores have gone up or down, it is impossible to look beyond them and see why they have altered.
Obviously, it is possible to guess what has caused changes by correlating with external factors. For example, if your main distribution center has had close unexpectedly, your website has crashed or one of your major suppliers has gone bankrupt, you are likely to see a drop in satisfaction. However, while this may help explain major variations in metrics, customer experience is about constant, iterative improvements that all add up – and most satisfaction scores cannot link directly to these individual changes with any certainty.
Essentially, you can see what is happening, but not why metrics are changing – reducing your ability to improve CX and show a return on investment from your programs. No wonder that the Temkin Group found that only 24% of companies felt that they were making changes to their business based on their VoC programs.
How can brands transform their programs? They need to take a more mature approach to VoC, focusing on:
1. Analyzing all interactions
Solely relying on VoC feedback gives a partial picture that does not reflect reality – it only captures information from those people that fill in surveys, which can be skewed to the very happy and the very upset. Focusing on this structured data also ignores all the information available from customer interactions, such as when they make contact through email, chat or social media.
2. Analyzing at scale
Brands interact with consumers millions of times every day. In the past, the sheer volume of data and the fact that it was spread over multiple channels made it difficult to get a complete view of customer satisfaction. It is therefore vital to break down any silos and capture and analyze all of these conversations if you want to understand why consumers are acting in particular ways.
3. Analyzing what customers actually say
Traditional VoC surveys focused on numeric, quantitative metrics as these were easiest to analyze. Reading through qualitative data, such as free text, qualitative, answers was a time-consuming, often manual process making it difficult to accomplish, particularly at scale. Now, with AI and Text Analytics brands can look at this qualitative data, and in particular understand customer emotion, even within digital channels and across millions of messages.
Finding out why customers are behaving in a certain way is just the first step. Customer experience involves multiple teams, from ecommerce to marketing and sales, so brands then need to deliver the results to the right team within the business in order to give them the insight they need to manage CX. Following this, they need to close the loop, implementing improvements and then checking that they have fixed any satisfaction problems through further analysis. This delivers real, measurable ROI from VoC programs.
Customer experience is the number one differentiator between brands across more and more industries. Rising consumer expectations mean they want to see constant improvements in the experience they receive – only by looking behind customer satisfaction scores can brands gain the deeper insight they need to drive their business forward.
Categories:
AI, Best Practice
You might also be interested in these posts: