The benefits of integrating customer service with the back office
Published on:
December 08, 2014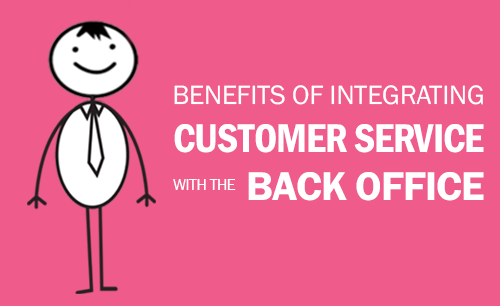 Back office activities may be unglamorous, but they are vital. Whether ensuring that customers receive the right paperwork, taking payments, making amendments to accounts or organising the dispatch of products, failures lead to frustrated and angry customers, and additional strain on the contact centre.
From a customer point of view, requests to the back office appear simple and straightforward. Examples include the insurance policyholder that has bought a new car and wants to update his details or the utility customer that is changing their method of payment. However many back office processes are still very manual and inefficient, or run in silo-based systems, increasing time and effort and therefore adding to administration costs. Multiply this by the thousands, if not millions, of customers that a large organisation may have and the scale of the impact on the bottom line becomes clear.
One way of bringing down these costs and improving the customer experience is to integrate disparate back office systems and link them to your customer service team. This creates a seamless workflow, with integrated processes that both put the customer at the heart of the process and bring down costs. Here are two examples where we've seen our customers transform their back office operations:
1. Make the back office self-service Customers don't necessarily want to call you to make minor changes to their account or request information. Therefore make it easy for them to go online and make their own amendments, automating the process, saving time and increasing efficiency.
Insurer Ageas Insurance Services (AIS) moved from primarily phone based contact with customers to an online model, built on Eptica's platform. Incoming emails are now immediately routed to the right agent, who is provided with a relevant answer template from AIS's Eptica knowledgebase, reducing handling time by 50%. Additionally, from its website AIS can now successfully process quotations, policy amendments, payment changes, renewals and even the collection of outstanding premiums. Customers are able to complete mid-term adjustments (MTAs) online, such as changing a car or adding a new driver themselves by filling in a transaction web form which automatically inputs and provides agents with all the information they need to calculate a quote or amend the policy. The ability for customers to make payments online for a policy change or outstanding balance provides a complete end-to-end solution without the need for contact centre interaction. This option now collects a third (34%) of total monthly outstanding payments and has increased recovery rates by 11%, providing an immediate bottom line impact.
2. Break down silos Being transferred between departments to get an answer frustrates customers and adds to an organisation's costs. Often this is because individual members of staff can only see part of the process due to multiple back office departments, each of which have their own systems and processes.
By sweeping away these to create a single, multi-skilled back office area therefore delivers huge benefits. Eptica is working with a major retailer that has merged back office operations using its platform. All interactions, covering customer service (email, letters, and social media), administration (order forms, requests for ad hoc literature), delivery tracking, payment approvals and complaints, come into the Eptica-based system. Not only has this resulted in a 30% reduction in costs, but customer satisfaction scores have improved. At the same time staff morale has risen, as they have a wider variety of tasks to complete, increasing their range of skills and avoiding potential boredom.
Both of these examples show how integrating the back office with front office customer service operations deliver benefits for the business, customers and staff. Whatever sector you operate in, now is the time to break down silos and make processes seamless, efficient and focused on customer needs.
Categories:
Contact Center, Customer Experience, Customer Service, Insurance, Agent Knowledge Base, Multichannel Customer Service
You might also be interested in these posts: