How the insurance sector is failing to rise to the digital CX challenge
Published on:
June 07, 2017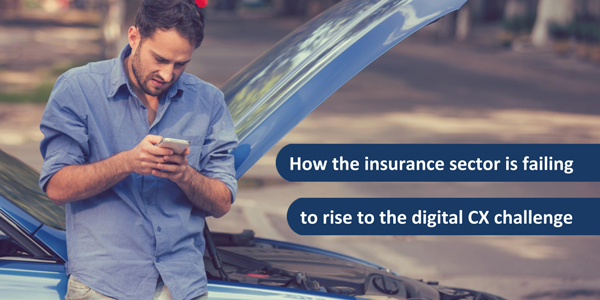 The insurance sector has experienced dramatic disruption in the wake of the digital revolution, with nearly 80% of customers now preferring to purchase insurance products via digital channels according to research by Bain.
Competition is rife and customer loyalty is declining with consumers keen to shop around to find the best deals. The rise of price comparison sites is exacerbating the challenge, pushing prices down and eroding margins. And people are even willing to move away from traditional insurance brands altogether with a fifth of European consumers happy to buy policies from tech brands such as Google and Facebook.
The one weapon that insurance brands can wield to meet the challenge is customer experience. McKinsey estimates that CX leaders in the insurance market are 80% more likely to retain customers, and have been able to grow sales at double the rate of CX laggards.
New research from Eptica backs this up. In the 2017 Insurance Customer Conversations study 91% of consumers said that good service makes them more likely to stay loyal to insurance providers.
The bad news for the industry, however, is that Eptica's study, which combined a survey of 1,000 consumers with an evaluation of the customer service capabilities of 20 leading UK insurers through the web, email, Twitter and Facebook - found that the customer experience across digital channels is actually deteriorating. Around 68% of all queries were not answered accurately – a dramatic rise from 2015 when the figure was 47%.
Five key takeaways from the study are:
1. Insurers are struggling to cope with volume of queries
The study reveals that insurers in the study managed to answer only half (49%) of all customer queries (compared with 70% in 2016). And, even if they did respond, many did not answer accurately. In all 68% of queries did not receive a satisfactory reply - a large rise compared to 47% in 2016. The findings suggest that the insurance sector seems to be unable to cope with the volume and complexity of today's multichannel consumer expectations.
2. Accurate answers are getting harder to find
The proportion of customer queries answered successfully deteriorated on email as well on Twitter and Facebook. Just 23% of insurance companies answered all queries successfully on email, responding much more slowly than before. On average it took 40 hours 25 minutes for a reply via email compared with 28 hours 4 minutes in 2016. On Twitter 25% of queries were answered successfully compared with 50% last year while on Facebook it was 30% this year and 40% in 2016.
3. Multichannel is hardly a reality
While 78% of consumers polled said they expected to be able to switch channels during an interaction with an insurance company, many insurers make this a frustrating experience by neglecting particular channels - they either fail to respond on them at all or do not make them available to non-customers. For example, while 100% of insurers gave consumers the ability to email them in 2016, this had dropped to just 60% in 2017. None of the insurance companies in the study were present across all four channels analyzed. The result? Frustrated consumers who are not able to use their preferred channel if they want to make contact.
4. The gap between good and bad performers is getting bigger
While the study revealed an overall deterioration in the customer experience delivered by insurers – it also showed the gap between the good and the bad is getting bigger. While one insurer responded on Facebook in 3 minutes, another took nearly a day. And 10% of all the brands studied failed to answer on any channel at all out of email, Facebook, Twitter and chat, while 40% scored 4 out of 10 or less. This is bad news for the laggards as 86% of consumers say they prefer a supplier that provides a fast, accurate and helpful response.

5. Quality conversations matter
Nearly three quarters (72%) of consumers say that they are growing more demanding, especially when it comes to the quality of the conversations that they expect from insurers. They listed context, empathy and personalization as among the most important factors when interacting with insurers, placing these above speed and relevance, which they think should be a standard part of their experience anyway. The bad news is that many insurers were not rated capable of having a conversation that met consumer needs: quality scores in the study ranged from 44% to 96% when it came to demonstrating empathy, relevance, context, personalization and speed. No wonder that 39% of consumers say they need to send follow-up communications as they are not understood first time.
It seems as though many insurers are struggling to cope with the increasing volume of digital interactions, coupled with rising consumer expectations. They find it difficult to deliver a multichannel experience, and to display empathy, context and personalization in digital customer interactions, while many customer queries are left unsuccessfully answered.
To deliver the experience that consumers demand, insurance providers need to investigate how technology can help. For example, artificial intelligence and natural language processing can facilitate a better understanding of what customers are asking for and automatically provide relevant, consistent answers from a centralized knowledge base. By empowering agents with the tools and information they need to do their jobs more productively, technologies such as these will help the insurance sector rise to the challenges posed by the digital revolution.
Categories:
Trends & Markets
You might also be interested in these posts: