Maintaining customer service levels at the busiest times of the year
Published on:
November 28, 2014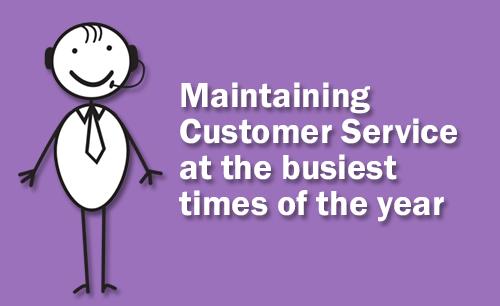 One of the most frustrating experiences for consumers is calling a company with a query and being met with a recorded message saying 'we are experiencing high call volumes at present, please hang up and try later'. Frustration can boil over into anger if they receive the same message on numerous occasions, particularly if it includes the advice to check the company website for information that they already know isn't there.
Your email is important to us...Similar negative feelings result from customers having to wait a long time for responses to email or social media queries. The Eptica Multichannel Customer Experience Study found that it took an average of 35 hours and 43 minutes for retailers to respond to a customer email query. Some retailers surveyed took as long as 400 hours (over 16 days) to answer while one company gave a deadline of an incredible 28 days to reply! Hardly helpful in the run up to Christmas. On social media the average time to respond to a customer on Twitter was 13 hours and 10 minutes with one retailer taking over 76 hours to answer.
Delays on email and social media have two results. Customers are annoyed and may well go elsewhere. Alternatively, they are forced to change channels and use the phone to try to get answers. This increases call volumes further, putting additional pressure on the contact centre as well as bumping up costs because fielding phone calls is more expensive than email, Twitter or web customer service.
Coming up to Christmas, how can retailers maintain service levels and avoid having to disappoint customers? Here are four tips to consider:
1. Boost your web self-service Make sure that relevant information is easily available on your website and look at a web self-service system to answer customer questions. This has a dual benefit in that it can deflect calls and emails while helping customers find what they want – without needing to change channel. This is important because 52% of consumers say they will abandon an online purchase if they can't find an answer to their question quickly, according to Forrester. They don't want to have to switch channels to get a response.
2. Centralise your customer service knowledge Customers want answers fast. In the busy run up to Christmas, when they often have so much to get done, this could make the difference between them buying from you or going to a competitor. So if they do email, call or tweet a query, you need to reply quickly and consistently. Centralise knowledge into single knowledgebase and make it available online to customers via the web and to agents handling emails, tweets and calls. Eptica customer Domestic & General, the UK's leading warranty specialist, was able to cut call times by nearly a quarter, increase First Contact Resolution (FCR) rates and halve hold times by deploying a centralised knowledge management system. These metrics translate into greater efficiency and happier customers
3. Listen to customers Analyse the questions that customers are asking on every channel to clearly identify their pain points and information requirements. Use technologies such as linguistics to analyse the context of the whole question to get to the heart of what they are looking for. This information can help you amend your processes or add information to your site to reduce incoming interactions and improve the customer experience. Analysis gives insight into what customers are saying and is vital for staying competitive.
4. Employ more staff Increasing staff numbers obviously adds to costs, but can it can be a good option to help you cope with the busiest times of the year such as Christmas. Normally you will need to invest resources in training new people – but budgets (and time) can be reduced by providing access to a knowledgebase which gives new recruits the facts at their fingertips to start working productively much earlier.
During busy times, customer service levels can suffer and you can lose customers, particularly if you cannot answer on their channel of choice. If customers enjoy better service levels elsewhere, it is doubtful that they'll ever come back and do business with you again. Therefore you need to deliver joined up, seamless multichannel service to ensure you can cope at peak times and don't have to resort to 'high call volume' messages during critical periods such as Christmas.
Categories:
Contact Center, Customer Engagement, Customer Experience, Customer Service, E-commerce, Forrester, Agent Knowledge Base, Linguistics, Multichannel Customer Service, Retail, Self-service
You might also be interested in these posts: