Making the change from call center to contact center
Published on:
February 03, 2016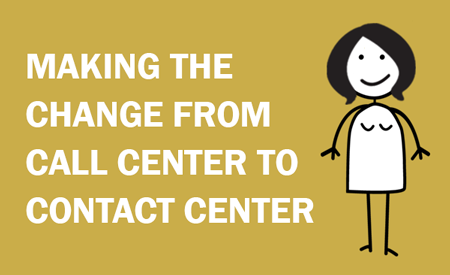 20 years ago customer service existed in a world dominated by voice, hence the widespread reliance on call centers to manage customer service interactions. Things have obviously moved on since then as email, and more recently digital channels such as social media and chat, have become a regular part of managing customer service delivery. Call centers have now evolved into contact centers, covering all aspects of customer engagement, across every channel.
However, the transition to this new model isn't easy, as the findings of the latest Dimension Data Global Contact Center Benchmarking research report indicate. The industry survey suggests that while digital channels currently account for over 35% of all contact center interactions they will overtake voice based interactions in two years' if current trends continue. Nevertheless, despite the expected growth in digital, increasing complexity means it's been difficult for contact centers to embrace and deliver high levels of service on all the channels that are now available to consumers.
The key findings of the report include:
75% of companies recognize service as a competitive differentiator, but customer satisfaction levels have fallen to their lowest level in four years.
87% of contact centers expect-non voice traffic to rise within the next two years.
Social media is already Generation Y's favored choice for customer service interactions, but six out of ten contact centers do not yet have the capacity to manage this channel.
Omni channel will soon be a necessity in the contact center space. It requires a joined-up approach in which all the channels are integrated – which is not yet commonly found in most companies.
Up to 40% of contact centers believe that IT doesn't even meet their needs at present – and 80% believe their current systems will fail to meet their needs in the future as things change.
Contact center analytics – which track and analyze the progress of individual customer interactions as people switch to and from different channels – is acknowledged to be a key requirement for success in the next five years, yet 40% of contact centers do not yet have this capability.

The analytics gap
The report highlights that customers want a smooth, frictionless journey regardless of whether they switch between channels as a query progresses. However, a lack of integration, particularly when it comes to analytics, makes it very difficult to analyze and measure the success of interactions that cross multiple channels. What's more, the lack of real-time analytics means it is difficult to step in and take action quickly when a customer issue is not resolved satisfactorily – for example, 54% of contact centers do not pass information to an agent when customers drop out of an interaction on a self/assisted service channel.
More than half of contact centers surveyed by Dimension Data have to manage at least eight different forms of contact — seven of which are digital (including smart apps, web chat, social media and video chat). What sort of things should companies be doing to meet the challenges they are likely to be facing? Here are some suggestions:
1. Listen to customers
Make sure you are on the channels that your customers tend to favor. Use demographic data and research to analyze what channels they prefer and put the right resources in place to support them. It's interesting that while many consumers like to use web chat, Eptica's research in the US and in the UK indicates that companies are not offering it or not supporting it with enough resources.
2. Change structure
Break down the silos of systems and skills that support individual channels. Consider providing training to multi-skill agents so that they can work on different channels to improve productivity (giving them a variety of different responsibilities can also improve job satisfaction, staff engagement and performance) Integrate the separate departments running different channels and ensure all are supported by a single, comprehensive knowledge base.
3. Encourage self-service
Self-service delivers multiple benefits; it empowers customers to find their own answers; reduces calls/emails to the contact center; give agents more time to handle complex queries (because routine questions are answered via self-service); and helps smooth the customer journey. Byanalyzing the questions people regularly ask it is possible to identify processes that need to be changed or where more information needs to be presented to customers.
4. Continue to innovate
Customer demands continue to increase and change which means it is a mistake to stand still! Even current leaders can become 'also rans' very quickly if they fail to innovate and improved. The Cranfield Management Forum has come up with a list of seven stages that organizations should follow in order to help create their own management processes for continuously developing and enhancing the customer experience they deliver.
We live in a multichannel world with increasingly demanding customers across more and more channels. Contact centers have to find a way to cut through the complexity and find a way to develop a successful, joined up multichannel approach for delivering customer service. And be ready to change and adapt as customer demands continue to increase.
Categories:
Best Practice, Trends & Markets
You might also be interested in these posts: