Overcoming the basic customer service pitfalls with technology
Published on:
October 29, 2014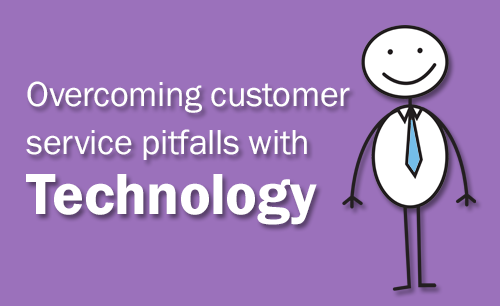 I recently read a really interesting blog by Thomas Laird that looks at some of the underlying reasons that companies struggle with customer service. What struck me was how many of these issues could be solved with well-implemented technology to support agents doing their jobs.
Here's a précis of Thomas's five points, along with my comments on where technology adds value.
1 . Who runs your contact centre? Essentially, contact centres need to balance efficiency and marketing/sales with customer service. If financial considerations trump everything else, the pressure is on to reduce call times, agent numbers and increase productivity. The risk is that if you solely look at these efficiency metrics, then expect customer satisfaction levels to drop as overworked agents handle an even greater number of calls and emails, and customers don't have the time to engage with your company. Sales-driven contact centres aim to cross-sell to customers – and if your incentives are not correctly aligned agents simply won't have time to build a rapport with the caller and listen to their needs, as the notorious Comcast cancellation call demonstrates.
Technology can do a great deal to increase efficiency. It can route incoming calls or emails to the best agent, reducing wait times, while providing access to a centralised knowledgebase of information to help answer those calls and email quickly and effectively. This speeds up First Contact Resolution rates and increases consistency, while at the same time improving the customer experience and agent productivity.
2. Education Training your workforce is obviously crucial to delivering excellent, efficient service, particularly in contact centres where staff turnover can be high. However, as well as technical knowledge, agents need to be trained to show softer skills in order to engage with customers. Technology, such as self-service knowledge systems, provides agents with instant, consistent answers to customer questions. This increases confidence and allows time to focus on engagement, rather than searching for information.
3. Lack of fluid processes Customers make contact with organisations across multiple channels and through different entry points. However when they get in touch, they need to receive a consistent answer to their query without being transferred between agents and departments. Again, access to a centralised knowledgebase ensures that wherever an agent is located they can deliver the same response to the customer, first time, without needing to pass the call onto another department or phone back.
4. Measuring the wrong metrics Metrics such as FCR and handling time tell you how your contact centre is performing. However, they don't capture the whole picture; particularly around how satisfied the customer actually is with the experience. Ensure that your technology is able to measure the whole range of metrics, such as Net Promoter Score and CSAT, as well as seamlessly feeding into bigger initiatives, such as company-wide Voice of the Customer programmes.
5. Over reliance on self-service As Thomas says, self-service is great when done properly. But it needs to be part of a multichannel strategy that is focused on customer needs. In many cases consumers just want a fast answer to a simple question – don't force them to call or email, but provide a web self-service solution that lets them get a quick, accurate response. This not only increases satisfaction, but also frees up agents to deal with complex enquiries, where customers want to speak to your agents in more detail. Balance is crucial – offer a consistent response across every channel, and use the same knowledgebase to underpin your whole interaction strategy.
For all of these areas, technology alone isn't the answer. You need to use it to support well-trained, skilled agents and have the right processes in place. However, technology should be the backbone of your contact centre, helping you to overcome customer service pitfalls and deliver an efficient, high quality service, time after time.
Categories:
Contact Center, Customer Engagement, Customer Experience, Customer Service, Agent Knowledge Base, Multichannel Customer Service, Self-service
You might also be interested in these posts: