Why 2019 is all about trust for brands and consumers
Published on:
January 16, 2019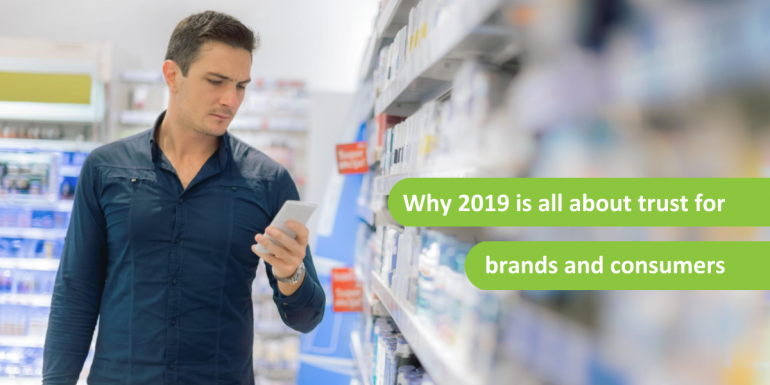 As we move into 2019, businesses are having to cope with unprecedented uncertainty. Markets are volatile, competition is increasing in every sector and new innovations threaten established business models.
This uncertainty also impacts consumers and their spending. They have greater choice than ever before in terms of where they buy from. At the same time social media and review sites provide access to more and more information about companies, their products and service levels at the tap of a smartphone screen.
Additionally, at a time when business is more complex than ever before, more and more companies are suffering from incidents that damage their reputation. Whether this is failing to protect customer data from a cyberattack, product safety issues, poor management behaviour or legal challenges, all of these incidents impact how consumers view you.
Given these issues, how can your brand win and retain their loyalty? It all comes down to trust – as I've said before customers want to engage with brands that are transparent and trustworthy, consistently deliver on their promises and are true to their values.
Putting trust on the balance sheet
However, up until now trust has been seen as a 'soft' factor that was couldn't be measured in business terms. Recent research aims to change this – the Accenture Strategy Competitive Agility Index combines metrics around growth, profitability, sustainability and trust to show how they interrelate.
Based on analysis of 7,000 companies it found that 54% had suffered a material drop in trust over the last two and a half years – and that this translated into a two point decline in their Competitive Agility Index. In monetary terms this led to a 5.8% average drop in revenue growth. This was even higher in some sectors – a $30 billion retailer could lose $4 billion in future revenues due to trust issues.
Based on its findings Accenture recommends brands follow three key steps to retain consumer trust:
Measure trust levels to ensure you know where you stand
Make trust part of your culture, from the boardroom downwards
Elevate the role of trust – ensure you take it into account when making business decisions. For example, will a short-term cost-cutting measure actually undermine trust, losing more in long-term revenues than it saves?
Building trust – it starts with the basics
Clearly, running a company well is at the heart of building trust with customers. And this begins with how you treat consumers and the customer service you offer:
Do you deliver on your promises, responding quickly, efficiently and consistently across every channel

to create meaningful conversations?

Are you open and transparent when it comes to providing information?

Does your customer experience make it easy for consumers to achieve what they want to do, valuing their time?

Do you

respond with empathy and understanding if issues occur, and solve problems satisfactorily for customers?

Do you

listen to the Voice of the Customer, and use the feedback that they provide to change your process and shape your strategy going forward?
2019 promises to be a year when trust deepens in importance – with those brands that build trust with customers rewarded through greater loyalty, competitive agility and higher revenues. Companies therefore need to ensure they have the foundations in place, and are delivering the service and experience that consumers demand if they are to succeed in these volatile times.
Categories:
News, Trends & Markets
You might also be interested in these posts: