How do UK banks rate on customer experience?
Published on:
March 14, 2018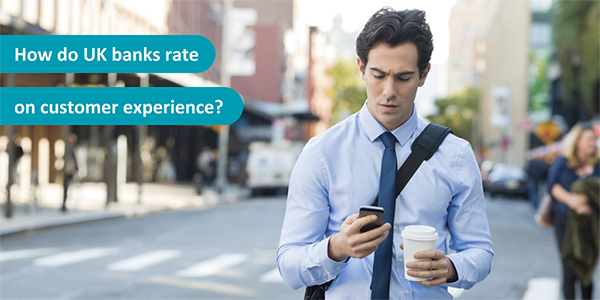 Banking, like many other sectors, is undergoing a period of disruption and change. Government legislation is committed to making it easier than ever for customers to change banks and interest rates remain low, meaning that service is a primary differentiator between companies. At the same time online and mobile banking is growing, while traditional players also face a raft of agile new entrants that are focusing on the experience and services they provide to customers.
This has led nearly 1m people to switch their bank account during 2017, with initiatives such as the Current Account Switching Scheme making it possible for customers to move all regular outgoing and incoming payments from an old account to a new account within seven working days and without much effort at all.
Loyalty is driven by meeting consumer needs. They want an easy, transparent experience from brands that treat them well, value their time and reduce friction in all areas.
How are UK banks doing in terms of the customer experience? In the latest Eptica Multichannel Customer Experience study, we evaluated the real-world online experience of 100 leading companies – including ten banks – by asking typical customer questions over the web, email, Twitter, Facebook and chat. The aim was to get a picture of their ability to deliver fast, accurate and consistent answers.
Overall the findings suggest the customer experience delivered by the banking sector has improved or broadly stayed the same across all the channels analyzed. But it is far from perfect in a number of areas – especially when compared with brands in other sectors.
When it comes to the experience delivered over the web, banking was the top sector for the third year running, with bank websites scoring 82% on average. However, this was a drop from 2016's figure (84%) and 2015's 91%. This is due to growing differences between the best and the worst, with four brands answering 10 questions successfully online while one could only manage 4/10.

The email experience has improved, but not significantly. In 2016 just 10% of banks answered an email successfully – in 2017 that had risen to 15%. Speed of response varied from 55 minutes to over 21 hours. In comparison 90% of electronics retailers and 80% of those in the food and drink sector provided an accurate response.

The social media experience delivered by the banks also trails behind some other sectors. On Twitter, 40% of banks successfully responded to questions compared with 70% of fashion retail brands and 50% of electronics retailers. On Facebook it banks scored 35% compared with 65% of telecoms companies.

Just three out of ten banks offered chat on their websites - compared with four sectors where 40% of companies had chat available.
Banking does have specific challenges. Companies need to comply with financial regulations, they often have a large number of customers, and traditional banks often have a complex legacy IT infrastructure that can slow down processes. However, consumers increasingly judge all organizations equally, whatever sector they are in, meaning that all banks need to ensure they are focusing on the customer experience. To do this, there are five important areas they should consider.
1. Reduce the load on more expensive channels such as email and the telephone by introducing self-service and chatbots - especially for routine queries where these technologies allow customers to get answers faster, with less effort.
2. Put greater resources into live chat so it is more available to consumers. People like chat and find it convenient while it delivers answers in real-time. Brands also benefit because one agent can be more productive by participating in several conversations simultaneously.
3. Eliminate silos by ensuring you are sharing resources and knowledge across channels to maximize efficiency, consistency and to help ensure regulatory compliance. This also improves the experience by speeding up the process of helping customers.
4. Use artificial intelligence to free up agents so they can use their human skills such as empathy and personalization to provide an intelligent, tailored service to customers.
5. Ensure you are continually improving the experience you deliver by benchmarking and comparing your organization with the best performers whether they are in your own industry or others.
At a time when consumers are highly focused on the customer experience, the good news is that many UK banks are heading in the right direction. But there are many gaps between performance across channels and between specific companies. At a time when competition is increasing and switching brands is getting easier, banks must redouble their focus and investment if they are to successfully retain customers for the long term.

To download the full Eptica Multichannel Customer Experience Study, click here.
Categories:
Trends & Markets, News
You might also be interested in these posts: