Bridging the chat gap in customer experience
Published on:
September 27, 2017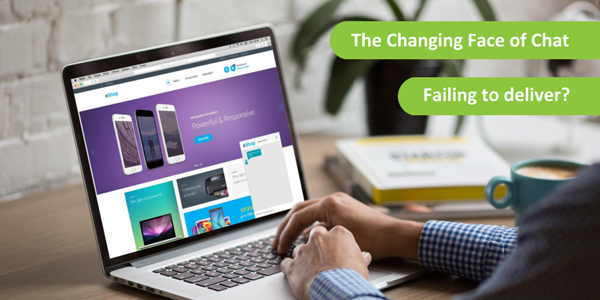 Given its ability to deliver real-time, two way customer conversations, it is no surprise that chat has become a key channel for consumers looking to interact with brands. At the same time for businesses, it's a cost effective alternative to the telephone, allowing agents to manage several conversations simultaneously.
Yet, while chat's time has come, there is a growing gap between the experience that brands provide and consumer expectations.
This is borne out by the Eptica 2017 UK Chat Study, which surveyed consumers as well as evaluating the chat experience offered by brands. It found that 65% of consumers are happier using chat now compared with 5 years ago – and that over 68% of consumers prefer to use chat rather than the phone, email or social media to communicate with brands.
Consumers want chat but brands are not delivering. 60% of consumers believe more companies should offer chat, and just 15% say they are always happy with the experience that is delivered via the channel. Key problems include:
Agents that don't have the right information (mentioned by 60% of respondents)

Having to queue to use chat or it not working due to a lack of resources (69%)

Always or often having to repeat themselves (54%)
The lack of resource mentioned by consumers was starkly demonstrated when the Study evaluated the chat provided by 100 brands. Nearly half (49%) said they offered chat, but just 22% actually had it working when we tried to use it.
Personalization, humans and chatbots
Brands are also not fully embracing the personal nature of chat. Brands were tested on the level of personalization they provided, but on average scored just 61%, suggesting many aren't really exploiting the full potential of chat in this area. Consumers backed this up with only 16% saying they always get a personalized experience via chat.
The emergence of chatbots - artificial intelligence-based programs that automatically deliver tailored information to customer queries, either through the web or messaging apps – has been a big trend in customer experience. Here, the Study found consumers want a balanced approach. While nearly a third (29%) of consumers are happy to use a chatbot for simple answers, 77% want to chat with a human when they have more complex questions.
The study highlights five key pieces of best practice advice to help brands to meet rising customer expectations of chat:
1. Integrate chat within the business
Integrate chat with other customer systems to ensure agents have the complete picture, and can focus on providing informed responses, rather than forcing customers to repeat themselves.
2. Support chat with centralized knowledge and AI
Give chat agents access to the same centralized knowledge base as other customer channels. Use artificial intelligence to better understand queries as they come in. This ensures they can deliver fast, accurate and consistent answers to consumers.
3. Give it the resources it deserves
If you offer chat, make sure it's available when customers need it. Invest in scalable technology that makes it easy for agents to manage bigger chat workloads.
4. Make it proactive
Nearly two thirds (64%) of consumers are happy to be helped through proactive chat, but only 46% feel they are offered it when needed. Invest in rule-based chat that helps at key points in the customer journey.
5. Plan ahead
Chat is evolving rapidly. Explore new areas such as chatbots and video, and look at incorporating chat into channels such as Facebook Messenger and WhatsApp if this fits with your customer base.
Despite its progress, chat still seems to be seen as a novelty by many brands – it is therefore time to invest in the technology, skills and knowledge needed to bridge the gap and meet growing consumer expectations.
The full study can be downloaded here, while an infographic highlighting key findings is available here.
Categories:
Best Practice, News
You might also be interested in these posts: