Improving the experience with actionable customer intelligence
Published on:
February 13, 2019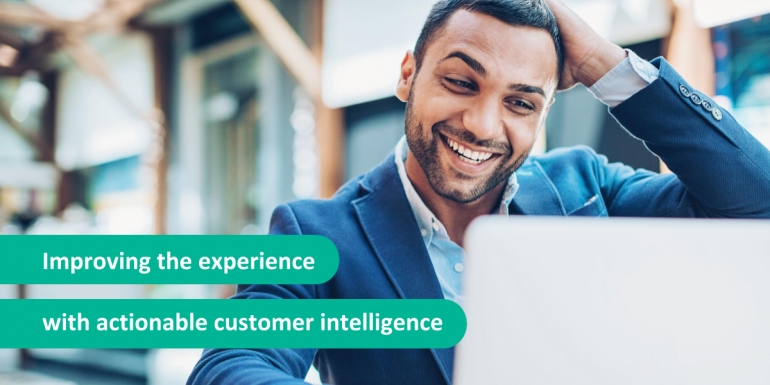 One of the biggest challenges for Voice of the Customer (VoC) programs is ensuring that they deliver tangible ROI for a business. However, many simply collect feedback or track metrics such as Net Promoter Score in isolation. This is a key reason that only 33 percent of CX professionals surveyed by Forrester said their VoC program is effective at "driving action" to deliver a better CX.
Companies today face two key imperatives – meeting growing customer expectations and ensuring they operate efficiently and effectively. Put these together and it is vital that VoC programs deliver real ROI if they are to continue to win investment and drive improvements.
At Eptica, we've worked closely with brands using our vecko customer intelligence tool, helping them to use VoC insight to deliver tangible benefits across the organization. In this blog, I'm going to give a bit more details on how two customers in different industries have realized ROI on their investment.
1. Financial services – leading international customer credit company
Situation: Operating across Europe, this brand has 9.3 million customers. It wanted to develop a customer intelligence program that identified issues along the customer journey, enabling it to improve the experience and consequently increase revenues. Previously its VoC program was based on 100,000 annual feedback surveys, that were analyzed manually on a monthly basis, with results shared with a limited number of departments. It solely measured the NPS, based on its feedback surveys.
Action: The company implemented vecko to continuously analyze the 400,000 emails it received every year and records of answers given to phone calls, along with verbatim survey responses on a monthly basis. The resulting insight was shared across the business through dynamic dashboards. These go beyond the Customer Recommendation Rate metric to look at why it has changed and why people dropped out of the customer journey.
Results: By looking beyond metrics, the company was able to use and share customer intelligence across the organization. For example, vecko analysis uncovered that when potential customers uploaded supporting documents for their credit application, they didn't receive an acknowledgement or follow-up. That not only caused people to drop out of the process but also lead to a greater number of phone calls from consumers chasing for a response. Based on this the customer satisfaction team worked with IT to amend the website, including adding a Call me Back button, as well as liaising with the lending team to improve the follow-up process.
Overall these improvements have led to NPS improving by 20 points between Q2 and Q4 2018, 10 points above the sector average. Dropout rates for credit applications have fallen significantly, leading to increased revenues and happier customers that are now promoters, not detractors.
2. Retail – large fashion group, operating on and offline
Situation: With 100,000 shoppers per day coming to its city center department stores and 1 million website visitors, this retailer operates on an enormous scale. As part of this, it handles 100,000 chats and 200,000 emails every year. It wanted to use this information to deliver an improved customer experience, particularly for consumers moving from digital to physical channels, as well as reducing offline issues that impacted the experience (such as at check out), and ensure it better understood its customers across digital and mobile channels.
Action: The executive team made NPS a key priority for the entire organization and led from the top to reinforce its ongoing importance. The aim was to truly transform the culture to focus on the customer at all levels. It created a new, real-time VoC program, based around specific journeys:
Post purchase in store
Post ordering online
Post delivery
Post Click and Collect
Verbatim information was collected from offline and online feedback surveys, which replaced longer, closed question surveys. This process was led by a new VoC team, which was created to work collaboratively across the organization, with stores, marketing and senior management.
Results: Adopting a more flexible feedback approach has increased response rates, from 5% to 30%, and reduced costs. Surveys are combined with automated analysis of the 300,000 email and chat conversations it has every year, using vecko's AI-based text analytics capabilities to identify customer pain-points. This information is used to drive three role-based reports that are shared with key groups:
300 store operations managers, who not only receive a monthly view of NPS but see the reasons why it has changed within their areas
All relevant stakeholders, who have access to overall NPS and specific figures around individual promoters and detractors
The C-level, who receive reports showing CSAT at a group level, along with the drivers behind changes.
The overall result has been a transformation within the organization, with VoC now part of the company culture, shared across departments and at every level. At every store, the month begins with a review of vecko reports, with managers drilling down into feedback, recognizing positive performances and setting goals for the month ahead, based on this insight. Employees are encouraged to share and discuss both specific issues and general trends, and how they can be improved.
While all brands understand the importance of customer experience, they also need to justify the impact of their investments. Thanks to vecko, organizations can demonstrate a clear ROI, based on better analysis of the true Voice of the Customer, with the insight shared across the entire business to deliver actionable intelligence that boosts customer satisfaction, loyalty and overall revenues.
Categories:
Product, Best Practice
You might also be interested in these posts: