L'Occitane – the benefits of a global approach to digital customer experience
Published on:
May 17, 2017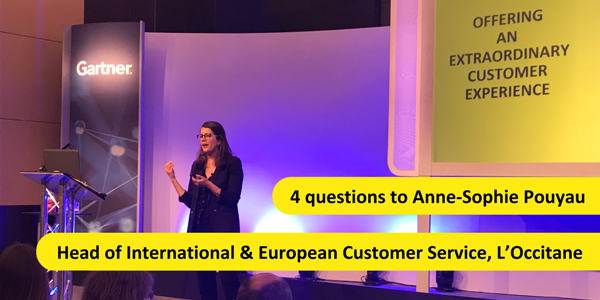 4 questions to Anne-Sophie Pouyau
Head of International & European Customer Service, L'Occitane
With a turnover of €1.28bn L'Occitane Group is a leading global manufacturer and retailer of natural and organic cosmetics and well-being products. Its products are sold through 2,924 stores across 90 countries and it has more than 8,300 staff around the world. To support its aim of delivering consistent customer experience to consumers globally, it is using Eptica's artificial intelligence (AI) powered conversational and collaborative solutions to boost efficiency and sales across its operations.
Anne-Sophie Pouyau, Head of International & European Customer Service, presented at the recent Gartner Customer Experience & Technologies Summit. We caught up with her at the event to find out more about how the company provides its millions of global customers with a seamless, multichannel experience.
What were the business drivers that led to your digital customer experience transformation?
Delivering an excellent service to our customers has always been an integral part of our brand. Digital transformation has made this even more vital in three ways:
Customers have less and less time, and want to be able to interact with you quickly, and through whatever channel or device is most convenient for them.
Social media means consumers can give instant feedback. People now listen first to their peers rather than brands.
The rise of the web means that the choice of products and places to buy them is infinite, increasing competition.
This all means that L'Occitane needed to adapt, and adapt quickly, fostering an customer-centric culture at every level, if we wanted to recruit and retain customers.
How did you put in place a framework and KPIs to deliver this globally?
We wanted to ensure consistency across our operations so adopted a single multichannel solution from Eptica around the world. This underpins chat, email and self-service, supported by a centralized knowledgebase. We rolled this out on a country by country basis, learning as we went. Normally, we rolled out all channels simultaneously in a country, but took into account the business needs of each subsidiary so that we supported their growth.
We created the KPIs by looking at what was important to the company and took the time to explain the benefits of measuring in this way to the teams in each country. As well as Net Promoter Score (NPS), we measure the ecommerce intervention rate – i.e. the percentage of orders requiring customer service involvement. These are reviewed on monthly calls, enabling us to benchmark over time and focus on any areas for improvement.
How has Eptica helped you transform your digital/omnichannel customer experience?
Eptica supports us in four key ways:
Our customer service representatives (agents) are more productive, as they are able to answer queries faster and more consistently through the solution and the centralized knowledgebase.
We can automate more interactions, such as using web self-service, when customers want to find their own information.
Overall our customer service is more organized and we can see exactly how we are performing through Eptica
Through proactive chat we can help drive sales. For example, we offer chat if customers are having trouble entering discount codes at the online checkout. This assistance means they are much more likely to then complete their purchase.
Above all, using Eptica frees up customer service representatives to engage emotionally with customers. This supports our core brand values and therefore increases loyalty to L'Occitane.
What have you learnt about your customers and their CX needs by implementing your global customer strategy? What have you learnt about the importance of emotion to CX?
We have a much more connected picture of our customer service operations now. This helps identify where we are strong, and any areas where we can improve, either globally or in specific countries. We can then prioritize corrective actions, on both a daily and a longer term basis.
In terms of emotion, we've learnt that it is virtuous circle. Our customer service representatives truly care about our customers and using Eptica gives them more time to interact with customers on a human level. In turn this engages customers who become brand advocates, making the job of customer service representatives more positive and pleasant. Happy customer service representatives make happy customers, and Eptica definitely contributes to that!
Categories:
Best Practice
You might also be interested in these posts: