Why customer experience needs to be led from the top
Published on:
July 25, 2017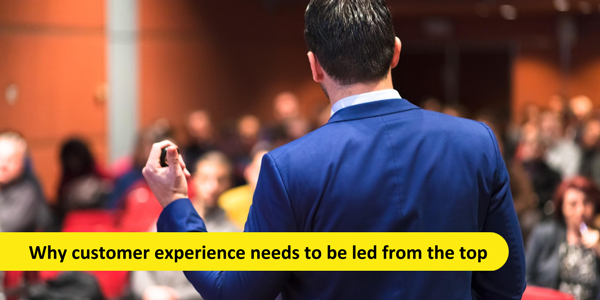 In today's ultra-competitive world, senior managers understand the importance of customer experience to corporate success. 72% of companies surveyed by Forrester said improving customer experience was their top business priority, while in Gartner research, CEOs listed customers as their second biggest focus, ahead of workforce, and just behind growth. Commenting on the study, Gartner Fellow Mark Raskino noted, "a big rise in explicit mentions of the word 'customer' in the results, and that "CEOs seem to be concerned about improving customer service, relationship and satisfaction levels."
Given the direct link that has been made between customer experience and improved profitability, it is no surprise that CEOs feel this way. Yet often there is a gap between theory and practice, with companies believing they offer a great customer experience when consumers disagree. So how can CEOs ensure that they are driving improved CX across their organization? Here are four places to start:
1. Lead from the front
Being customer-centric must come from the very top, and that means that the CEO must demonstrate that they are taking CX seriously. They should be pushing through programs, celebrating success, and continually showing that they see it as a key priority. That means discussing it when interviewed – and being the external figurehead if there are issues. It could even involve working a shift in-store or in the contact center to get the agent perspective on CX. The upside of this is clear - research in Australia found that 58% of companies where the CEO led CX initiatives were more profitable than their peers. However, it is achieved they need to demonstrate to everyone in the organization that it is their personal priority – and therefore should be theirs too.
2. Give it board recognition
While he or she needs to be a figurehead for CX and lead from the front, a CEO clearly won't be able to devote all their energies to customer experience. They therefore need to appoint someone senior to manage and drive forward CX on a day to day basis. This person should be board-level, able to both make major decisions and report back to the most senior tiers of management. To fill this gap, many companies are creating the role of a Chief Customer Officer (CCO), someone who is not part of a specific department, but has a global view and responsibility for existing and new customers. Again, this is proven to drive improved revenues – research by the CCO Council found companies with this role grew by an average of 5.98% compared to their peers, and 67% of them saw a positive financial impact.
3. Make it tangible to all staff
It is human nature to focus on the activities that deliver the greatest personal reward. Therefore to reinforce the importance of CX, an increasing number of organizations are linking senior executive and CEO bonuses to customer satisfaction metrics. For example, in the wake of the storm around its forced removal of a passenger from an overbooked flight, United Airlines has amended its executive compensation plan to tie a larger proportion of bonuses to improvements in CX. Other airlines already link customer satisfaction to bonuses. There's no reason that this practice shouldn't be introduced at other types of organization, and at all levels of the company, showing the wider world, and investors, that business leaders are willing to be judged – and remunerated – on CX performance.
4. Link it to corporate objectives
Companies must demonstrate that they are not seen as simply paying lip service to the idea of improving the customer experience. They should, therefore, ensure that it is included in corporate aims and objectives, and is spelled out in any strategies that are developed. As well as including customer satisfaction as a metric in executive bonuses, make it a key objective to launch or develop new programs, across the organization and by all heads of department. That will encourage collaboration and help to break down barriers, and reinforce the message that everyone is involved in customer experience, whatever their role or job title.
Superior customer experience has a direct impact on company competitiveness, and thus on the bottom line. It is therefore vital that CEOs lead from the front, putting the customer at the heart of everything that the organization does if they want to succeed in meeting and exceeding customer expectations, now and in the future.
Categories:
Best Practice, Trends and Markets
You might also be interested in these posts: