The 4 barriers to meaningful consumer conversations
Published on:
January 30, 2019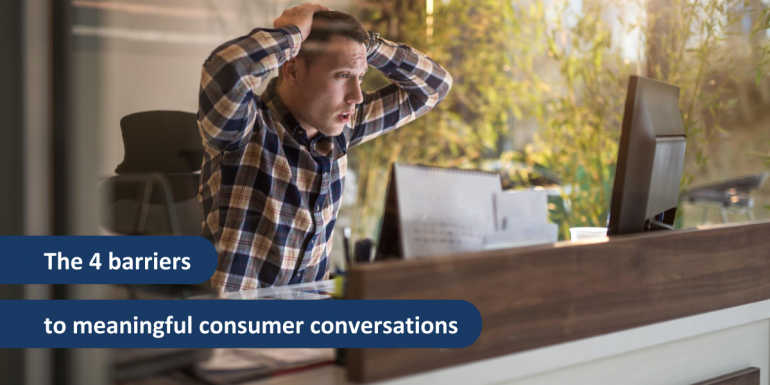 The reasons that consumers remain loyal to brands goes beyond factors such as product range and price. Essentially, at a time when competitors are just a click away, they want to be treated as individuals, and feel that they – and their time – are being valued. Failing to deliver and match their expectations undermines trust and means that they are likely to switch to a rival, either now or in the future.
This need for personalization goes across all channels and applies equally if they are dealing with people or technology. For example, if they send an email and then follow up with a chat session a few days later, consumers rightly expect the chat agent to know the history of their interaction, avoiding the need to repeat themselves.
Essentially, consumers want to have meaningful conversations with brands, in the same way that they would have with their family and friends. This means listening and responding appropriately, in a timely manner and showing that you value them, and take heed of their concerns.
Everyone working at a brand understands the importance of conversations – after all, it is what they expect in their own lives. In this case, why is it so difficult to achieve in customer service? There are four major reasons for this:
1. Scale
Brands receive huge volumes of questions and queries every day, across multiple channels. Research by Eptica found that the average consumer interacts with brands 9 times per month – extrapolated across the UK that would make 463.5 million contacts per month. Even mid-size companies receive hundreds of queries per day. Being able to respond quickly and consistently through a meaningful conversation is therefore difficult to do with the resources available.
New technology such as artificial intelligence can help here. Use of Natural Language Processing to analyze incoming queries helps drive better understanding, enabling automatic answers to be provided or empowering agents with the information they need to hold a meaningful conversation. AI ensures that service and personalization can be delivered at scale, reinforcing trust and driving greater loyalty.
2. Lack of knowledge
65% of consumers said that the questions they ask are becoming more complex, compared to five years ago. Additionally, they want brands to be open and transparent, providing them with the information they require on a whole range of subjects, from their own purchases to corporate policies on the environment, business ethics and plans for the future. In many companies this knowledge is scattered across different teams and departments, meaning that consumers don't get the answers they require in a true conversational way. Agents have to call back or follow up after tracking down information for example, or self-service systems fail to provide relevant answers to queries. Centralizing knowledge is therefore vital to ensure that agents and systems are armed with the information they need to have seamless, meaningful conversations.
3. Inability to get a holistic view
If you began a conversation with a friend on social media and then met them in real life, you'd expect to be able to continue your discussion without having to repeat yourself. This is often not the case when it comes to consumer conversations with brands. Switching channel, or even making further contact, requires a lengthy explanation of the interactions to date, frustrating consumers and breaking down trust. Brands therefore need to focus on joining up channels to gain a single view of the customer, and using this information to enable seamless conversations that meet consumer needs. While this may not be easy, they need to break down silos and barriers between channels. For example, an agent answering an email should know exactly what pages the consumer browsed before sending a query so that they don't repeat steps or information that have already been provided.
4. Lack of customer intelligence
Conversations are based on understanding what the other person is saying, and also any other factors such as tone of voice or how they are acting, and using that information to provide a relevant answer that moves the conversation on. When it comes to digital channels, you cannot see or hear the consumer, meaning it is vital that brands use the unstructured data around conversations to fill in the gaps. Analyzing unstructured data gives deep insight into their pain points, what's irritating them or even what they expect from a new product. Using this information not only helps deliver meaningful conversations, but it also provides customer intelligence that can be used to improve the entire customer journey.
Consumers are increasingly demanding, meaning that the balance of power between them and brands has moved in their favor. They want to feel valued if they are to remain loyal – building trust is key to this. Ensuring that every conversation is meaningful underpins trust, and is therefore critical to successfully winning and retaining customers in today's competitive markets.
Categories:
News, Trends & Markets
You might also be interested in these posts: