Putting the customer first this Christmas
Published on:
December 13, 2017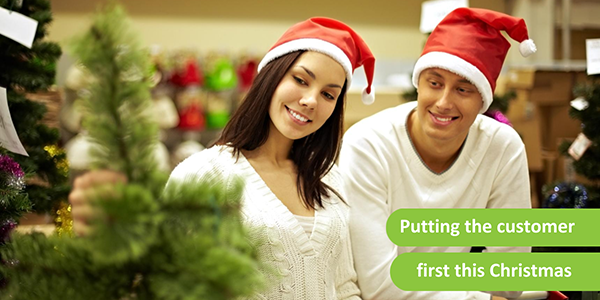 The run up to Christmas is both the busiest time of year for most brands and the most stressful for consumers. Whether it is shopping for presents, organizing meeting up with friends or simply getting ready for the big day, it can feel that there are a thousand and one things to do in a very tight timescale.
So it is no surprise that consumers become more stressed and demanding of the brands that they deal with during this time. Even minor issues, such as a delivery cancelled at the last minute, can be the straw that breaks the camel's back and destroys a previously strong and loyal relationship.
Then what can brands do to support their customers this Christmas? As Gartner's Augie Ray points out in a recent blog, it is all about making a difference. He cites the plot of the film Miracle on 34th Street, which sees a Santa in Macy's department store recommending a rival shop to a mother looking for her child's Christmas present. When managers find out that he's sending customers to the competition, Santa faces the sack, but is saved by a combination of public support and the increased sales that putting the customer first brings. The message is clear – "do good and people will reward you".
Moving away from the movies, how can you deliver this in practice, particularly across thousands of interactions and multiple channels? It comes down to four key skills, that you need to deploy consistently across your organisation:
1. Understanding
The root of many issues can be simple misunderstandings between brands and consumers. This is particularly the case on digital channels such as email and social media where conversations don't have the verbal or visual clues that telephone or face-to-face interactions provide. Ensure that your staff are armed with consistent, jargon-free information that they can use when talking to customers in order to bridge the understanding gap, and use AI-based technology to analyze incoming messages to help agents deliver informed answers.
2. Empathy
In a fast-moving digital world, consumers still want quick responses to their queries that show brands value their time. But they want more – if they are to be loyal they want to feel that the brand, and its employees, empathize with their needs and wants. As Miracle on 34th Street shows, going the extra mile to fix a problem doesn't just delight the customer concerned, but helps develop a brand reputation that attracts new consumers to buy from you.
3. Take the time
While customers are pressed for time, they want brands to invest in helping them. And that means that every interaction can't solely be judged by how quickly it was ticked as completed. Customer service teams obviously need to be efficient, but should balance this with the ability to spend time when it is required, such as solving a more complex issue. In such cases simply pushing them to other channels or providing an impersonal answer may save time, but will annoy customers and cause them to move elsewhere.
4. Empower your staff
All of these points rely on your people delivering consistent, high quality service, across every channel. This means empowering them to take the lead and solve customer problems. Give them access to information, such as through a centralized knowledge base, so that they can provide fast, accurate answers and join up your systems to ensure that they can see the full history of previous customer interactions. Ensure they have the skills to deliver the empathy and understanding that customers want, combined with problem-solving skills and a customer centric mindset.
The world has moved on from the single, face-to-face channel shown in Miracle on 34th Street, meaning that customer experience is now much more complex and even more important to business. At the most stressful time of the year for consumers, make sure you are making a difference when you interact with them if you want to build long-term relationships going forward.
Categories:
Trends & Markets, Best Practice
You might also be interested in these posts: