Five ways retailers can improve CX ahead of Peak
Published on:
August 15, 2017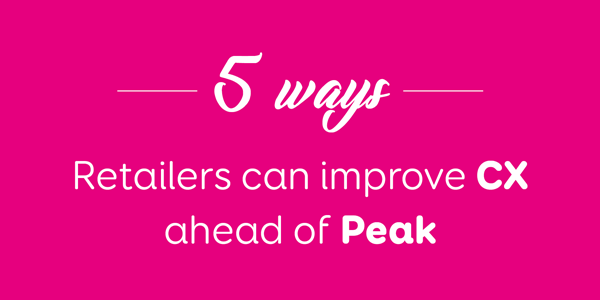 Planning ahead is central to retail success, which is why during the summer months many retailers are already preparing for the Peak festive shopping season, the busiest part of the retail calendar. Given the importance of customer experience to sales success at this crucial time of year, optimizing CX is high on the list of priorities.
So how can you ensure that your customer experience helps you have a Happy Christmas? Here are five suggestions from Eptica of areas to focus on within your customer service team:
1. Centralize knowledge
Especially in the busy run-up to Christmas, customers want fast consistent answers – no matter what channel they are using. They will have questions about your pricing, products, delivery times and returns, and answering all of these are crucial to building and continuing a successful customer relationship.
To deliver this consistency you should create a single source of information, with a centralized knowledge base that is available online to customers via the web and to agents handling emails, social media messages and calls. It improves the experience for customers, and it increases efficiency with only a single location to update the information when changes are required.
2. Ensure agents have straightforward access to answers
As well as centralizing knowledge, it has to be easy for agents to use. Give them a solution that makes it simple and straightforward to access the information they need, through the minimum number of systems. Ensure that they can see the full customer journey across channels and have the full facts at their fingertips – this cuts response times and boosts customer satisfaction as they benefit from faster answers. Make sure the knowledge base powering your solution is easy to update and uses technologies such as artificial intelligence and Natural Language Processing to aid agents, for example by analyzing incoming messages and automatically providing relevant responses.
3. Optimize self-service with automated conversations
The web is the start point for most retail purchases, and given that your rivals are just a click away it is vital you make it easy for customers to instantly find routine information, without needing to speak to you.
Invest now in implementing and optimizing a web self-service system that lets customers ask questions in their own words and get immediate answers – whatever time of day or night it is. Ensure it is mobile-friendly so that consumers receive the same experience whatever device they use to interact with you. Look at the potential benefits that chatbots can bring, extending self-service to new areas, and ensure it is easy to escalate from these automated channels to human conversations.
A good self-service solution helps deflect calls and emails while helping customers find what they want – without requiring them to change channel. This is a big bonus because research by Forrester suggests 52% of consumers will abandon an online purchase if they can't find an answer to their question quickly.
4. Understand your customers
If you haven't done it already, make sure you analyze the questions that customers typically asked on every channel in previous Peak seasons – this will highlight their biggest seasonal pain points and information requirements. Using Natural Language Processing lets you analyze the context of the whole question to get to the heart of what they are looking for. This can help you amend your processes or add information to your website to enhance the customer experience by providing the right information upfront.
5. Look for ways to ensure new staff are ready
Most retailers dramatically increase staff numbers to handle the extra workload during Peak. Ideally, you want to ensure new staff are productive and capable of representing your brand and its values when interacting with customers as soon as possible. Consumers don't care if someone is a new joiner, they just want good, fast service.
This is another area where a central knowledgebase helps improve CX. It reduces training time and gets new staff up to speed faster, as it means they do not have to memorize specific information or processes or have to look them up manually. Also, by analyzing the questions that specific agents ask, supervisors can identify gaps in their training that can be filled with refresher sessions.
Whatever part of retail you are in, customer experience will be the key battleground for Peak 2017 - 93% of consumers questioned by Eptica say they are more likely to buy from a retailer after a positive experience. Given it is less than six months to Christmas, now is the time to put the right systems in place to be ready for a successful Peak.
Categories:
Best Practice, News
You might also be interested in these posts: