How a CX Maturity Model can transform your experience
Published on:
November 20, 2019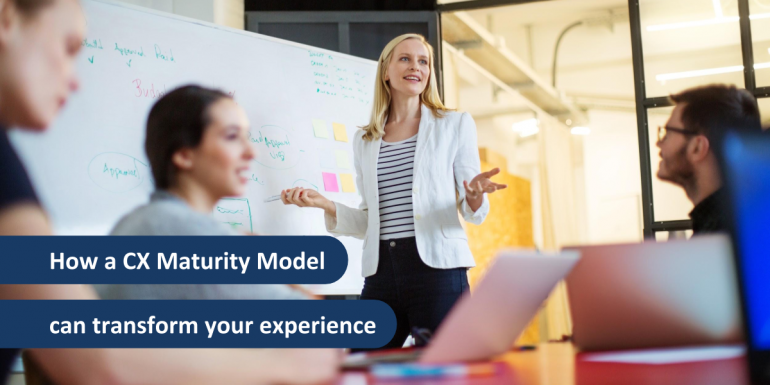 Focusing on customer experience delivers clear benefits in terms of increased engagement, higher brand reputation and most of all increased revenues. Analysis from Forrester bears this out – it found that revenues from CX leaders grew 14% faster on average when compared to CX laggards. In many ways this link between CX and business success is self-evident, if you provide your customers with the right experience and service that they are looking for, they are likely to come back and recommend your brand to others.
However, achieving ongoing CX progress strategically and tactically is difficult in practice. Excellence is a moving target - not only do customers continually expect more, but your competitors are (probably) all investing in their own CX in order to tempt them away. So your program has to listen to customers in-depth and use this insight to drive continuous improvement, rather than being a series of one-off, disconnected fixes. Equally, successful CX programs have to involve the entire business, from senior leaders down and span multiple departments. Keeping motivation and direction is difficult, as is avoiding some of the common pitfalls that CX expert Jeannie Walters discusses in this recent guest post.
The importance of a CX Maturity Model
That's why you need a framework and tools to measure, guide and drive progress - a CX Maturity Model. These enable leaders to:
Assess the current state of CX within the organization
Identify different areas for improvement as well as milestones on the way
Provide focus on those areas that are most critical
Guide the overall evolution and optimization of CX

Essentially a CX Maturity Model provides a map and compass for your program, along with the impetus you need to move forward. As a quick search will demonstrate, there is a wide range of models available, from analysts such as Gartner (the CX Pyramid) and Forrester (the CX Management Maturity exam) as well as vendors and consultants. most of which share similar stages.
For the purposes of this post, I'm going to use the model created by Denise Lee Yohn, which incorporates elements from a range of others. It outlines five stages to maturity:
1. Emerging
A brand realizes that it needs to adopt a customer-centric approach in order to achieve its aims. Key players begin to come together to assess where the organization is currently and to start efforts to improve specific touchpoints.

2. Learning
The organization begins to adopt basic CX tools, such as undertaking customer research and mapping the customer journey. There is some experimentation around solving pain points and CX metrics are adopted (and measured) at a touchpoint level. While there's more involvement from the wider business, most activity is still carried out by specific groups.
3. Committing
CX becomes a recognized part of business activities. Led from the top, the organization formalizes CX with a defined strategy, allocated resources, established teams, and specific cross-functional targets. Voice of the Customer programs are put in place to listen across the customer journey. People and departments from across the business come together to work on CX, breaking down silos and helping to create a customer-centric culture.
4. Accelerating
While the third stage creates a standalone CX strategy, the fourth integrates this into the overall business strategy, reflecting the organization's key priorities. Technology and data are used to integrate CX across the business, with deep customer insight, skills, and platforms put in place to accelerate progress. Companies also ensure that the whole business is committed to CX, with a focus on culture and engaging employees to ensure that they understand their role and put the customer first.

5. Excelling
The pinnacle of the CX maturity journey, with customer experience an intrinsic part of business operations at a strategic and tactical level. Companies listen to the Voice of the Customer across every channel, including analyzing customer conversations for both sentiment and key themes, with this insight then shared across the organization. Everyone in the business has the skills and commitment to continually improve CX, and it is embedded within organizational structures and practices.
Clearly, moving to the Excelling phase can take time, depending on the start point and the overall culture of the company. As with any maturity model, it is vital to adopt a measured, sustainable approach that reinforces progress at every stage. For example, trying to move immediately to the Excelling stage without having a solid, customer-centric culture and CX technology platform in place means you are likely to fail. Whatever phase you have reached, listening to the Voice of the Customer effectively and using this analysis to drive ongoing improvements is vital to growing maturity.
Underpinning greater CX maturity
To help organizations mature, Denise Lee Yohn recommends focusing on three building blocks to underpin CX programs:
Vision and Strategy – setting the targets for future achievement and plotting a route to get there
Leadership and Alignment – achieving buy-in from organizational leaders at all levels
Organizational Readiness – ensuring the business has the skills, resources, and culture to turn planning into action

As an organization moves up the stages of the CX Maturity Model, so the activities and requirements within these three blocks changes, building on what has been previously put in place.
Whatever your business, ensuring you are delivering a seamless, high-quality customer experience can make the difference between success or failure. Therefore, every organization needs to embark on the journey to CX maturity. However, without a model or framework, any CX activities are likely to be ad-hoc and not deliver wider benefits. They may improve one touchpoint but consequently worsen the experience further along the journey, for example. You need a map and a compass, if you have not done so already, look at adopting a framework now to guide forward progress on your CX maturity journey.
Categories:
Best Practice, News
You might also be interested in these posts: