Transforming customer experience to survive
Published on:
June 28, 2017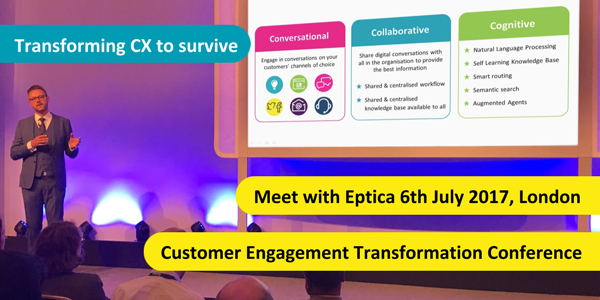 To find out more on how to transform CX, please come and meet us on 6th July at the Customer Engagement Transformation Conference
When it comes to the service they receive, consumer expectations continue to rise dramatically. They want a higher quality experience and faster, more accurate service from every organization they contact, through whatever channel they choose. Rather than old-style one way interactions they want a two way conversation with brands if they are to build loyalty and become long-term advocates.
Achieving this transformation is not easy – particularly given that competition is constantly pushing the bar higher, whatever market you operate in. New technology such as artificial intelligence (AI) and Natural Language Processing (NLP) can help deliver the experience that customers now demand, as can adopting more collaborative approaches to service that remove silos between departments and seamlessly cover the entire customer journey.
Demonstrating the importance of adopting new approaches to customer experience, the forthcoming Customer Engagement Transformation Conference promises to provide CX professionals with innovative ways of successfully changing their operations. To be held on 6th July 2017 in central London, it features ten topic streams, packed full of case studies that show how leading organizations have transformed CX. Eptica is a proud sponsor of the Customer Engagement Transformation Conference and will be demonstrating its AI-powered platform for customer experience on stand #8 at the event.
Eptica's own studies back up this need to transform customer experience. Research with consumers and the retail and insurance industries earlier in the year demonstrate four key trends:
1. Consumer expectations are continually rising
Whatever the sector, customers expect more. 72% of consumers surveyed by Eptica said their expectations were always increasing when it came to the experience provided by insurers, while a quarter of retail customers say they are less satisfied with service compared to five years ago. They want the ability to seamlessly switch between different channels, and to receive personalized, accurate responses that understand them as individuals and don't require them to re-contact multiple times to get an answer. For example, 91% of retail consumers say they want a fast and accurate response to their query as a minimum from the brands they interact with.
2. Consumers are becoming less satisfied
Over half (53%) of consumers were unhappy with the service they received on digital channels from retailers, while 49% of insurance customers were dissatisfied with the responses they received on social media. In part, this is due to gap between their expectations and the experience they are offered. For example, 62% of consumers want a reply to their email in 2 hours – yet just 10% of insurers achieved this. No wonder that just 15% of insurance customers are happier with the experience they receive now compared than five years ago.
3. There is a direct link between better customer experience and higher sales
Underlying the push to transform CX is one key point – it directly impacts the bottom line, whatever market you operate in. 93% of consumers said they'd buy from a retailer that provides a good experience, and the picture is similar in the insurance sector, with 91% agreeing that good CX drives greater loyalty. Consumers may be more demanding, but if you meet or exceed their expectations, they will reward you for it.
4. Brands are generally failing to deliver
However, the Eptica studies found that overall companies are not meeting customer expectations:
46% of questions were left unanswered by retailers on the web, email and social media channels
This figure rose to 68% for the insurance market, with just over a third answered successfully
58% of retailers provided different answers to the same question across multiple channels
35% of insurers answered on just one channel out of email, Twitter, Facebook and chat
While some companies are excelling, and have put in place the resources to focus their customer experience, the majority seem to be falling behind, either settling for average service or even reducing the range of channels they offer to consumers.
How can brands transform their experience? The first step is to focus on the underlying technology behind their digital CX. They need to ensure that they have a platform in place that can successfully use artificial intelligence to power a seamless, multichannel experience, built on a single, self-learning centralized knowledge base that ensures that information and answers are always consistent, up to date and easy to access.
To find out how Eptica can help you transform your operations come along to visit us at the Customer Engagement Transformation Conference next week (stand #8) or download our Retail and Insurance Studies.
Categories:
News, Product, Best Practice
You might also be interested in these posts: