When times are tough, retailers must prioritize customer experience
Published on:
May 08, 2018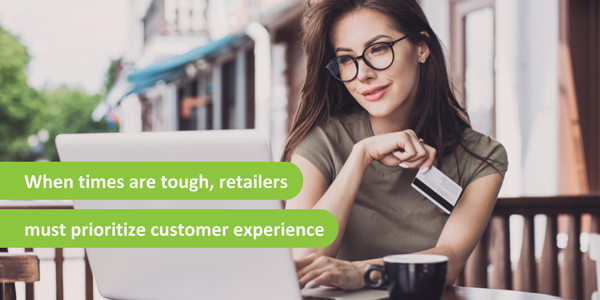 The UK retail sector is undergoing unprecedented change, with many long-established high street brands closing or having to cut back their number of stores. Familiar names such as Toys R Us, Maplin, Mothercare and Homebase are among the brands reported to have been affected in the last few months.
Shopper footfall on the high street has experienced the sharpest decline since 2010, while sales showed their biggest quarterly fall in a year.
More demanding consumers
In such a competitive market, the customer experience delivered by retailers is key to helping them differentiate themselves, preserve margins and increase loyalty. For example, 94% of consumers surveyed recently by Eptica say they're more loyal to brands if they provide accurate answers to their questions – 84% said they will go elsewhere if they don't get the responses they want.
But it isn't easy for retailers. They are having to interact with tens of thousands of consumers, across multiple channels. And those consumers are growing much more demanding – both in terms of how long they will wait and the complexity of their queries. For example, 88% want brands to be more transparent and provide more in-depth information, while nearly two thirds (65%) say their questions are more detailed, compared to five years ago.
Impatience is a big factor. In a previous Eptica study, 46% of consumers said they'd spend just 5 minutes looking for information on a company website before moving elsewhere. 44% wanted a response on Facebook in 30 minutes, and 61% an answer on Twitter within an hour.
With all the pressures they are facing, how can retailers ensure that they are delivering the right experience?
1. Put knowledge first
Customers want fast, accurate answers to their queries, however they make contact. That means you need to keep knowledge up to date and consistent across all your channels. A single centralized knowledge base enables this by making the same information available throughout the organization - to agents on the phone, email or social media who can access answers, templates and responses, as well as supporting self-service and chatbots.
2. Make it easy for consumers
Customers want you to value their time, and make it simple and straightforward. That means continually looking for any problems or hitches in the customer journey and removing any potential roadblocks. One of the answers is to use chat. You can incorporate proactive chat into the journey to provide assistance when a customer has lingered on a key page – such as the checkout or delivery options page - for an unusually long time. Through chat agents can intervene in real time to help resolve queries to improve the experience and salvage sales you are in danger of losing. For simpler queries, you can also use chatbots to help customers get fast answers themselves.
3. Empower and train agents
You want your agents to deliver consistent, high quality service, across every channel. Empower them with access to information, for example by creating a centralized knowledge base, and join up your different systems to ensure that they can see the full history of previous customer interactions. Give staff the training and skills to deliver the empathy and understanding that customers are seeking, as well helping them develop problem-solving skills and a customer centric mindset.
4. Listen and act
Analyze all the conversations you have with customers, including the questions they ask online on all channels and combine that data with results from your customer surveys of Voice of the Customer programs. And make sure the findings are shared across the business to provide meaningful, actionable insight, through solutions such as vecko which delivers customer intelligence that improves the bottom line.
With the all-important peak retail season around Christmas just six months away, now is the time to focus on the customer experience if you want to thrive at the busiest time of the year...
Categories:
Product, Best Practice, Trends and Markets
You might also be interested in these posts: