Taking stock of customer service in 2019
Published on:
December 11, 2019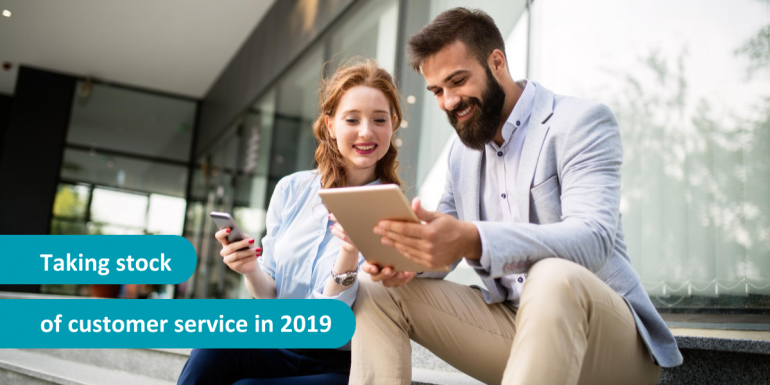 As the end of the year approaches, now is the perfect time to evaluate how the customer service sector has performed in 2019. And what better way of doing this than exploring the 2019-20 Contact Babel UK Contact Centre Decision-Makers' Guide, sponsored by Enghouse Interactive. Based on surveys with 226 UK organizations as well as interviews with 1000 consumers, this guide provides a detailed overview of the main industry trends. This is the 17th edition of this annual report, so it is also a fantastic way to understand how our sector has changed over time.
There's a HUGE amount of information available in the report's 414 pages, but here are five of the key trends that I'd highlight:
1. The world is becoming increasingly digital
One in four interactions is now digital, which brings a variety of benefits for consumers and for businesses.
Firstly, digital communication is of course generally cheaper. For example, the average cost of an inbound call is £4.53, 16% more than an email, 34% more than web chat and 42% more than a social media interaction. Although, even the cost of digital interactions is on the rise: email has gone up from £3.37 on average in 2018 to £3.89 this year and social media has risen from £3.07 per contact to £3.18.
Secondly, consumers generally prefer digital communications over speaking to an agent on the phone. Only 12% of customers that want to get in touch with a company choose calling as their first option, 37% prefer email and 14% would visit a website first.
Most organizations who were polled expect digital channels to continue increasing in importance. Strong growth is once again expected in web chat and social media customer service interactions and SMS, with email volumes also expected to grow but at a slower rate than in previous years. At the same time, more organizations (62%) expect live telephony channel volumes to fall than to rise (15%).

2. AI is becoming mainstream
94% of businesses polled for the Contact Babel guide believe that AI will be important to their contact centre – generally in assisting agents, rather than replacing them.
AI can assist and empower agents in a number of ways. For example, AI-based technology can automatically scan incoming digital interactions and present agents with recommended answers and information to address the customers' needs. Algorithms can be trained to understand unfamiliar language, technical terms or slang that agents may struggle with. Similarly, AI can be used to automatically analyze factors such as context and emotion, enabling agents to provide personalized, empathetic replies more easily.
In fact, 16% of respondents in Contact Babel's report say they're already using AI and 31% are intending to implement it within 12 months. If you haven't done so already you absolutely need to plan for AI now and understand how it will sit alongside your agents.

3. Metrics are maturing
As customer service has become more business-critical, the way it is being measured has evolved and matured. Rather than focusing on simple metrics such as call time, more and more firms in the industry are embracing measures such as CSAT and NPS. 37% of those polled by Contact Babel chose CSAT/NPS as the most important metric that they used.
NPS is very useful but only takes you so far. For example, it can tell you what customers think and feel at a specific moment, but not WHY they think or act the way they do. Generally, you have to guess the reasons behind the numbers, which limits opportunities for analysis.
Ideally, you want to build on what you can learn from the NPS with more granular customer insights to reveal why your score is moving in a particular direction. To do this you need to analyze all customer interactions, including those from traditional Voice of the Customer (VoC) surveys, along with verbatim information from email, chat and social media conversations.
By analyzing what customers actually say in conversations you can extract qualitative insight that enables you to continually improve.

4. Self-service is growing
Consumers have more and more queries and want faster answers, particularly to routine requests. No surprise then that 87% of companies now offer some form of self-service, 62% of which is web self-service and 46% account specific.
However, there are occasions when self-service is not enough for a customer, so you need to offer a wide range of options. For example, 70% of companies agree to some extent that some customers simply don't trust self-service, preferring to have human reassurance that the request they have made has been carried out, or that the information they are looking for is actually correct.

Of course, simply offering web self-service is just the start. You need to constantly improve the knowledge base, fill in gaps and learn from the questions people ask if you want to keep pace with consumer expectations.

5. The rise of web chat
Web chat is continuing to grow, especially in retail. Generally, consumers like chat partly because it is immediate – with typical wait times often less than queuing to get through on the phone, and also because it gives a direct, real-time human contact.

The problem is, however, that many companies tend to drop chat when resources are tight. In Eptica's Digital CX study earlier this year we found that 44% of brands we evaluated claimed to offer it – yet just 26% had it operational when tested. If you are providing chat you need to ensure it has the right resources in place to maximize its potential and to avoid disappointing your customers.

Moving into 2020 it is important to understand the changing face of customer service and to plan and resource accordingly. You'll have to focus on achieving a balance between investing in the right people, training, tech and processes to keep customers satisfied and drive engagement and loyalty moving forward.
The 2019/2020 Contact Babel Decision Maker's Guide is available to download via Enghouse Interactive.
Eptica is part of the Enghouse Interactive Group, a leading global provider of contact centre software and service solutions that deliver enhanced customer service and transform the contact centre from a cost centre into a powerful growth engine.
Categories:
Best Practice, News
You might also be interested in these posts: