Why it is time to take a new look at social customer service
Published on:
June 14, 2017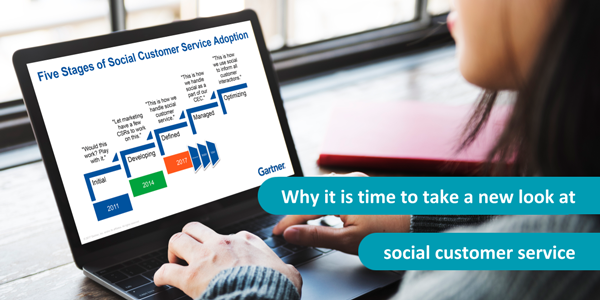 Using social media for customer service has been around since channels such as Facebook and Twitter first sprang to prominence. The combination of being easy to use and very public forums mean that consumers quickly understood the power it gave them to interact with brands, with the aim of getting fast, accurate responses to queries and having their problems solved.
However, the sheer scale of social media has meant that many companies have struggled to cope with the volume, range and 24 hour a day nature of social customer service. According to Twitter, over 4.5 million tweets are sent to B2C brands every month – and social media use increased globally by 21% over the last year. So resourcing social media is only going to get more difficult, particularly as companies are using it for many other activities outside customer service, such as marketing, brand awareness and public relations. No wonder that recent Eptica research with the insurance sector found that 70% of questions on Facebook, and 75% on Twitter, didn't get an accurate response.
All of these factors make now a good time for organizations to reassess how they are handling social customer service, and analyst Jenny Sussin's presentation at the recent Gartner Customer Experience & Technologies Summit provided a strong start point and framework. She pointed out that social customer service has been going through five stages:
Initial (around 2011) – companies begin to play with social media to see what it can do for customer service.
Developing (2014) – organizations begin to put some real resources behind projects
Defined (2017) – companies define how social customer service is handled with metrics and guidelines.
Managed – businesses integrate social into the wider customer experience infrastructure, such as through customer hubs or customer engagement centers.
Optimizing – organizations take a social-first approach and using the information it provides to underpin wider customer interactions.
Jenny stressed that the final two stages are currently ongoing. Companies are grappling with three key factors: the disruption of messaging apps (such as WhatsApp) as they rise in importance; the need for organizational realignment to manage social effectively, and the desire to use the data from social media to integrate and inform the entire customer experience.
Based on Eptica's experience moving forward successfully with social customer service requires companies to focus on four areas:
1. Take an integrated view
In the past there has been confusion over who was responsible for social media, and social customer service, given the wide variety of uses for Twitter, Facebook and messaging apps. Businesses therefore need to take an integrated view of these channels, with marketing, customer service, PR and sales all working together. One way to achieve this is by creating customer hubs, that bring together teams with different skills, in a single location, so that they can collaborate on interactions. This breaks down silos and leads to faster, more informed responses.
2. Use technology to cope with volume
The sheer number of interactions on social media is vast – and is continually increasing. Companies therefore need to use the right tools to cope with these volumes. For example, they should look to analyze incoming messages and use natural language processing to automatically recommend specific answers, so that agents can respond more quickly and with more confidence. 44% of consumers want an answer within 30 minutes on Facebook – achieving this is difficult if agents are still handling each query manually.
3. Share resources across customer service
Previously some companies have taken a channel by channel approach to customer service, meaning different teams (or even different departments) handled social media compared to email or the phone. This leads to inconsistency and inefficiencies. Companies should look to centralize resources such as knowledge bases, and make them available to everyone interacting with consumers in order to drive consistency and increased satisfaction. Bringing all incoming requests (across email, Facebook and Twitter) into a single queue also increases efficiency as it ensures all teams are productive, maximizing resource usage and giving agents variety in their roles.
4. Embrace artificial intelligence to understand the context
Jenny Sussin demonstrated that social media provides a huge amount of contextual data, but that often this is not analyzed, understood or integrated with overall CRM systems. This is not only inefficient but frustrates consumers, as they feel companies are failing to take a joined-up view of them or providing a personalized experience. Artificial intelligence can assist here – using linguistics to analyze the context of a message gives vital clues to the tone, urgency and mood of the consumer. Cross-referencing this with CRM systems enables businesses to provide a faster, tailored experience that treats the consumer as an individual, increasing satisfaction and therefore loyalty.
As Jenny Sussin pointed out, social customer service is now sprawling and mutating – meaning the companies that succeed will be those that take an integrated, forward-looking view and dedicate sufficient resources to meet changing customer needs. Otherwise they risk becoming another in a long line of #customerservice fails on social media.
Categories:
Best Practice, Trends and Markets
You might also be interested in these posts: